I mean, the title says it all. If you like cupcakes and you like horchata, buckle up. If you don't know what horchata is, also buckle up. These cupcakes started out as an experiment and ended up a bundle of creamy, cinnamon-y goodness. Horchata cupcakes with horchata cream cheese buttercream is an instant staple in this house. For sure.
First, let's talk about what you have to like in order to enjoy these cakes. Cinnamon. You gotta love it. These are like little cinnamon bombs. Soft, fluffy, cinnamon bombs. The cakes and the frosting are not only made with horchata, but also with additional cinnamon.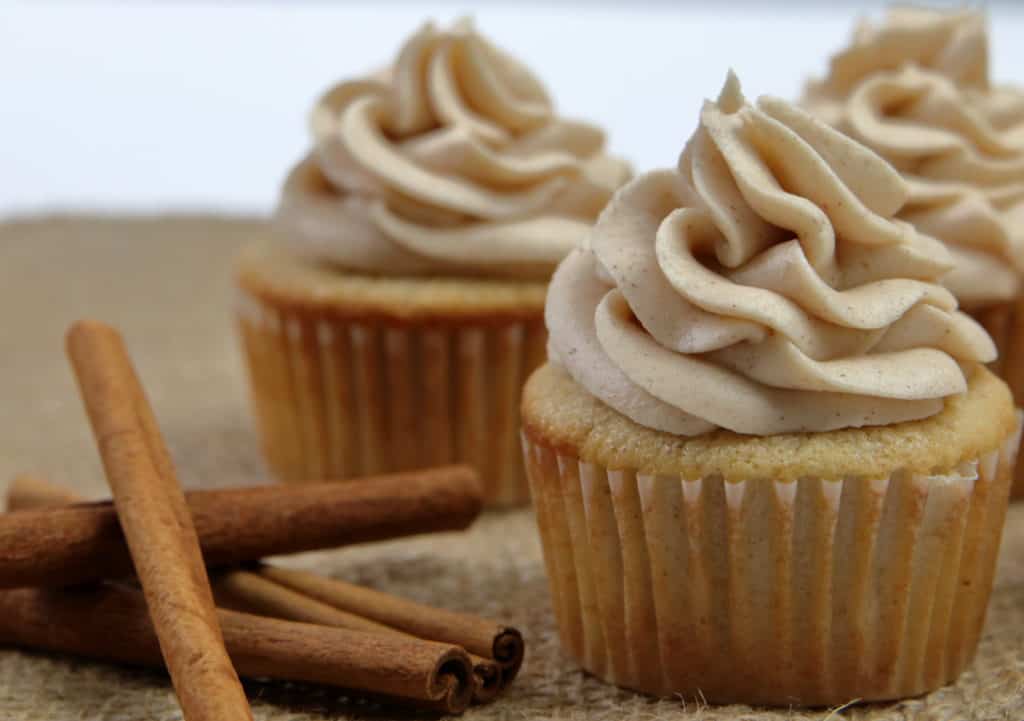 What is horchata?
This is normally the first thing that people ask me when I say I made horchata cupcakes. I'm no horchata expert and to be honest, I do not enjoy horchata as a drink. But it's SO SO SOOO good in cupcakes!
Horchata has several varieties, but its most common variety is a rice milk flavored with cinnamon and vanilla. There are other varieties made with different types of grains and slightly different spices, but I decided to go with the rice milk and cinnamon type, although, I did see that some horchata includes nutmeg, and I'm definitely interested in trying that too.
For this recipe, I used premade horchata that I found in the grocery store. I know it can be done homemade, but I haven't learned how to do that yet. Although, it definitely sounds DELISH.
Making the horchata cakes
This recipe sounds a little crazy and exotic, but it's actually super easy and they come together just like any other basic cupcake. Get your oven preheating to 350F, measure out all of your ingredients, and as always, make sure everything is room temperature so that everything mixes and blends well together. After that, start by mixing all of your dry ingredients into a bowl: sifted flour, baking powder, baking soda, salt, and CINNAMON!
Tip: Always weigh ingredients, especially flour, so you get a perfectly consistent amount every time.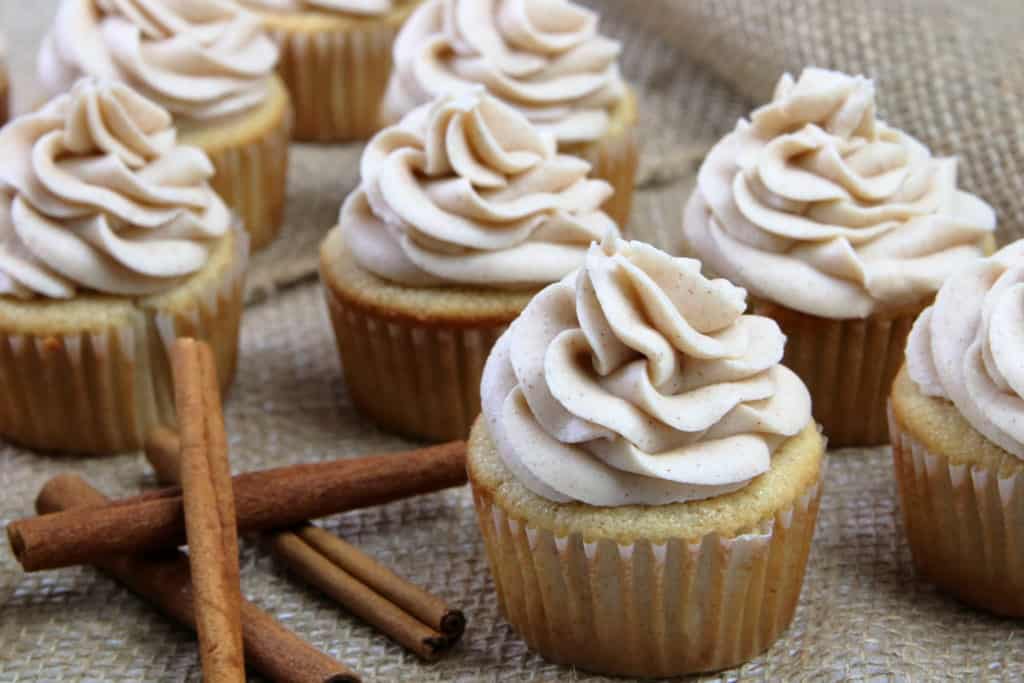 In a stand mixer with the whisk attachment, mix together on high speed the butter and sugar until light and creamy (abut 1-2 minutes). Next, add egg whites and continue to mix until combined. As the eggs whip, the mixture will get big and fluffy. Now, we've removed the egg yolks, so egg whites along are all protein which will provide structure for the cake, but can dry it out. Fear not. We're about to add sour cream which is FANTASTIC for making a soft, moist cake. Also, whipping the egg whites will add air to the batter and will lighten the texture of the cake.
After the eggs whites are fluffy, add the sour cream and vanilla extract and mix until combined.
Turn your mixer on low and begin to spoon in your dry mixture a little at a time until just combined. Then slowly pour in the horchata until the ingredients are all mixed, but do not overmix! Overmixing will over develop the gluten in the cake and cause it to be dense. Sometimes I'll pour in the liquid and just finish the mixing by hand to avoid this.
When your batter is ready, pour into cupcakes liners and fill about ¾ full. Bake in the over on 350F for about 15-18 minutes. While these are baking, let's get started on the buttercream.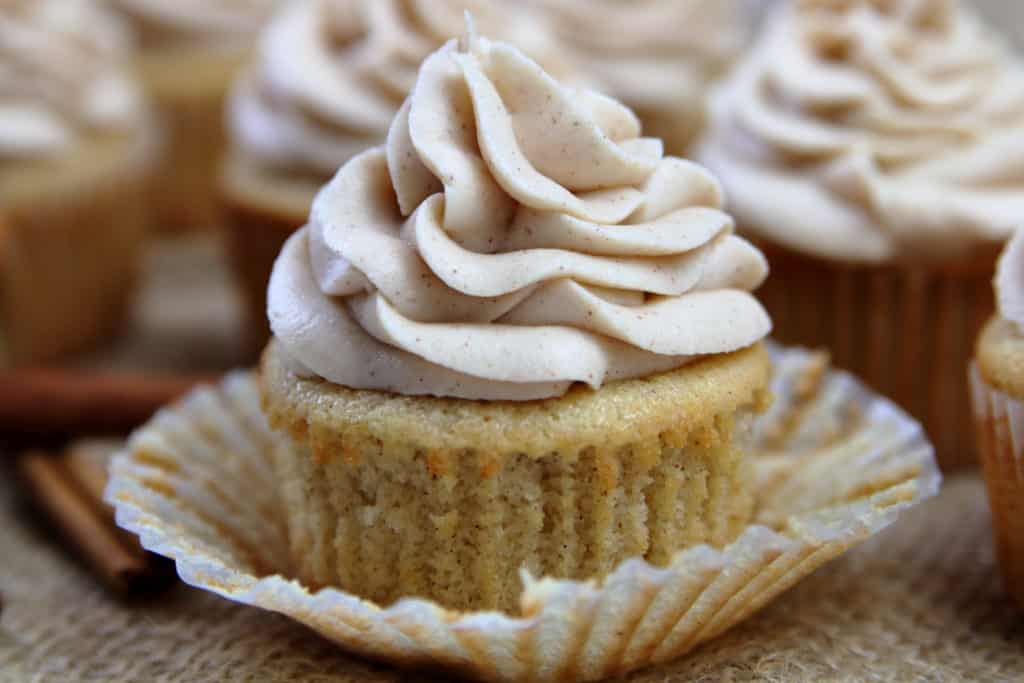 Horchata Cream Cheese Buttercream
This stuff is so insanely easy. And I'm a sucker for some cream cheese buttercream. For this, I used a 1:1 ratio of butter and cream cheese in terms of weight: 1 stick of butter and half a block (four ounces) of cream cheese (both about 115 grams).
For this, I would also recommend that you use cold cream cheese. *shock* *horror* Yes, really. I find that room temperature cream cheese and room temperature butter can actually make the buttercream TOO soft. Rest assured, it still mixed beautifully. On high, whisk together the butter an cream cheese. Once it's creamy, add the powdered sugar, cinnamon, vanilla extract, and horchata. Continue to whip the buttercream until light and fluffy.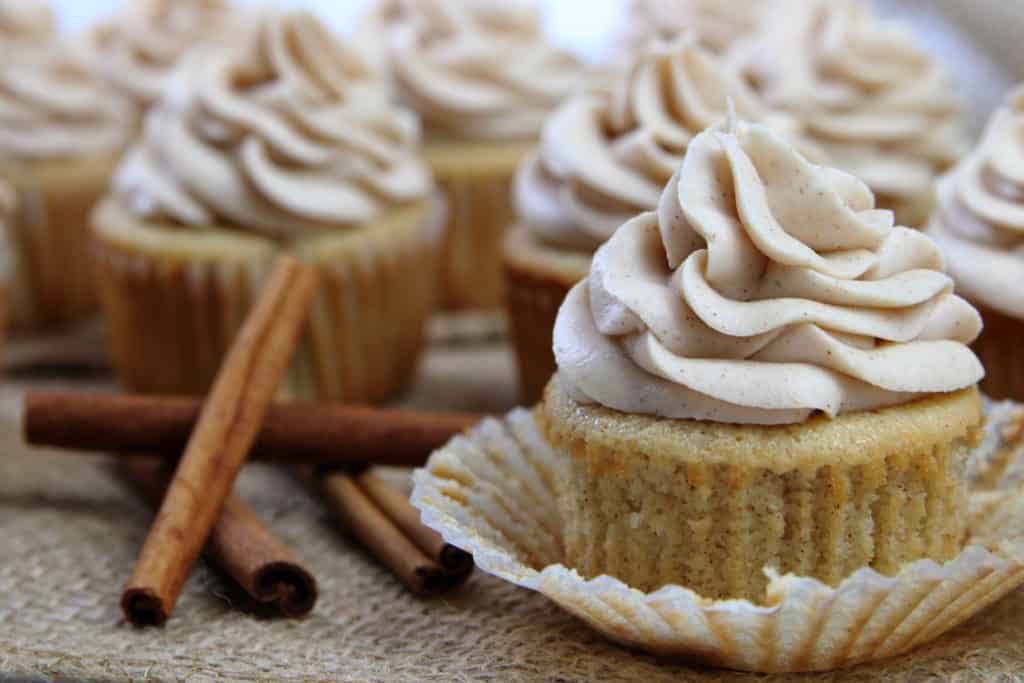 When the cupcakes are done, remove from oven and cool COMPLETELY on a cooling rack. It's hard to wait. REALLY hard. The cakes are delicious alone and I could eat the frosting with a spoon. But MAN it stinks if you frost a cake too soon and you watch powerlessly as the buttercream sliiiiiiides off to the side!
And that's it! There's really not a whole lot to it as long as you can get your hands on the horchata, you can easily whip up these Horchata cupcakes with Horchata cream cheese buttercream and make everyone think you're super fancy.
Enjoy!
Need some more cake ideas? Try these!
Get the MUST HAVE tools!
As an Amazon Affiliate, I earn a small commission at no extra cost to you.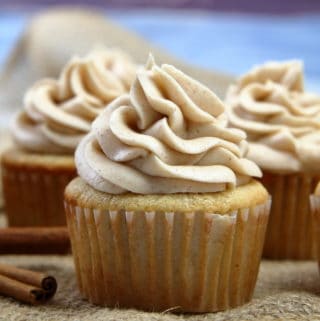 Horchata Cupcakes with Horchata Cream Cheese Buttercream
Soft, fluffy, and delicious Horchata cupcakes with Horchata Cream Cheese Buttercream. Packed with cinnamon and creamy horchata
Print
Pin
Share on Facebook
Rate
Ingredients
For the cake
360

grams

All purpose flour

400

grams

granulated sugar

2

sticks

butter

4

egg whites

1

tsp

vanilla extract

225

grams

sour cream

full fat

2

tsp

baking powder

½

tsp

baking soda

1

tsp

salt

1

tsp

ground cinnamon

1-¼

cup

horchata
For the buttercream
1

stick

butter

½

block

full fat cream cheese

115 grams

500

grams

powdered sugar

1

tsp

vanilla extract

1

tsp

ground cinnamon

2

tbsp

horchata
Instructions
Cake
In a large bowl, mix sifted flour, baking powder, baking soda, salt, and cinnamon. Set aside.

Make sure all ingredients are room temperature

In a stand or hand mixer with the whisk attachment, whisk butter on high (about a minute) until creamy.

Add sugar and mix until combined, about 1-2 minutes.

Add egg whites and continue to whip until mixed. Mixture will begin to get fluffy.

Add vanilla and sour cream and mix until combined.

Reduce speed to low, and mix in dry ingredients until just combined. Do not overmix.

Slowly pour in horchata and mix until just combined.

Fill cupcake liners ¾ full, and bake for 15-18 minutes, or until toothpick comes out clean when inserted.

Let cool completely before icing.
Buttercream
In a stand mixer with the whisk attachment, whisk together butter and cream cheese. For this, I used cold cream cheese so it would not be too soft. Mix until combined and creamy.

Add cinnamon, vanilla, and horchata. Mix until smooth and creamy. Pipe onto cupcakes and enjoy!