These Cookies and Cream Cupcakes are made with crushed oreos and marshmallow oil and are topped with vanilla buttercream with crushed oreo cookies mixed in.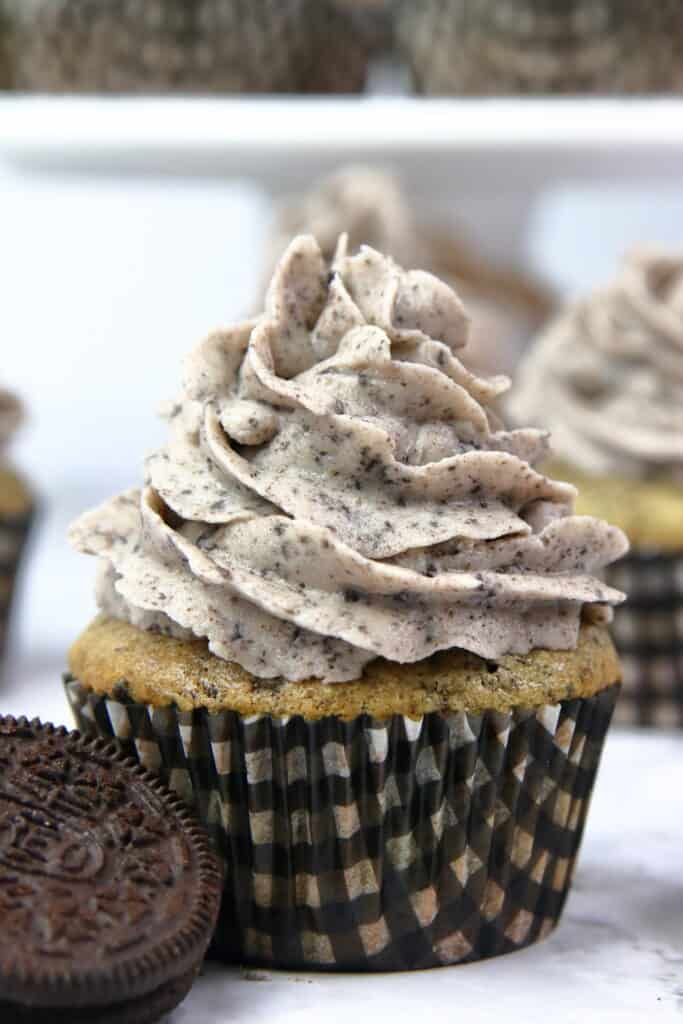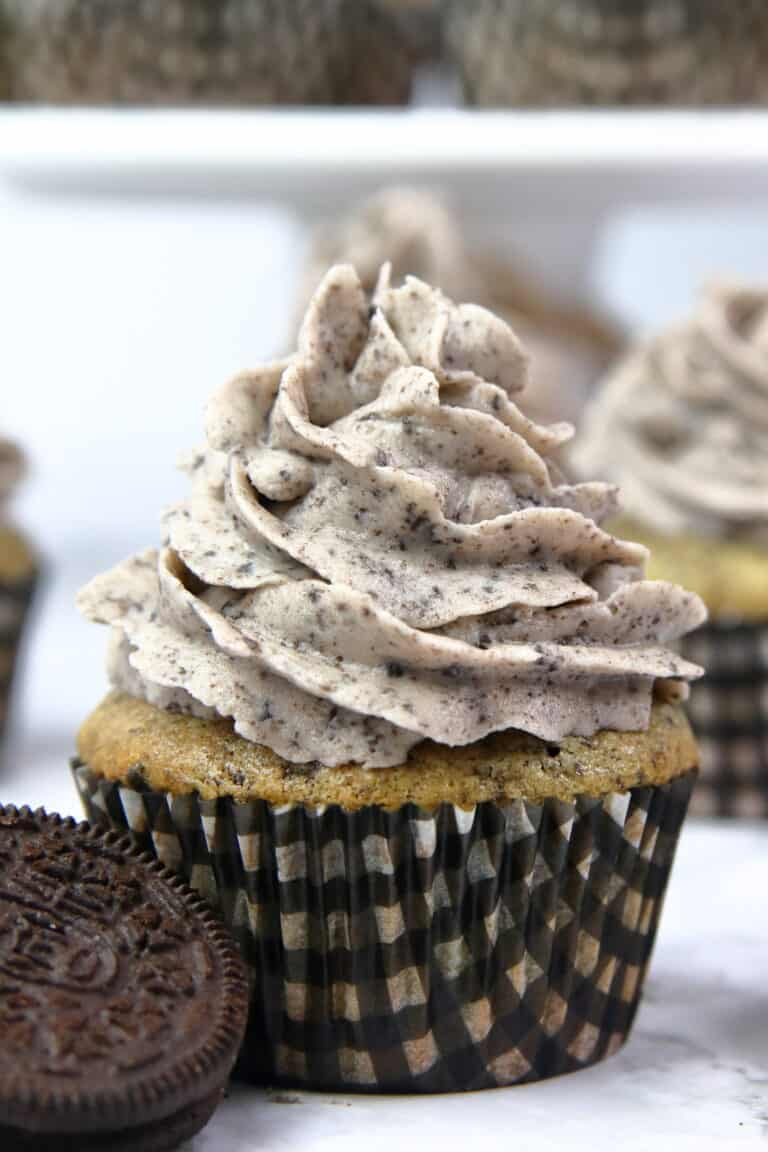 I think we can all agree that Oreos make just about anything better. Cookies and Cream in any incarnation is usually delicious, and Cookies and Cream Cupcakes are no exception.
Are these just vanilla cupcakes with oreos smashed in?
Not exactly. The recipe is very close to my own vanilla recipe (coming soon!), but it has one extra special ingredient that give these oreo cupcakes a delicious and unique creamy flavor.
Ready for it? Marshmallow Oil

As an Amazon Affiliate, I earn a small commission at no extra cost to you.
I've been using a lot of the LorAnn flavors and I really do love them. This marshmallow oil gives these oreo cupcakes an extra yummy lift that vanilla extract alone does not.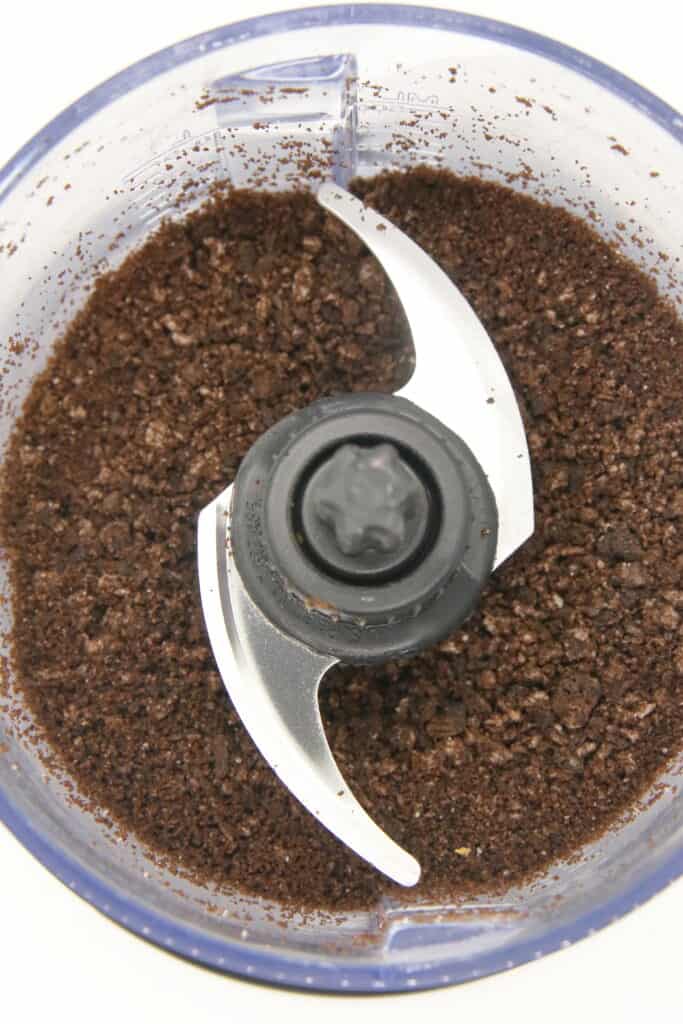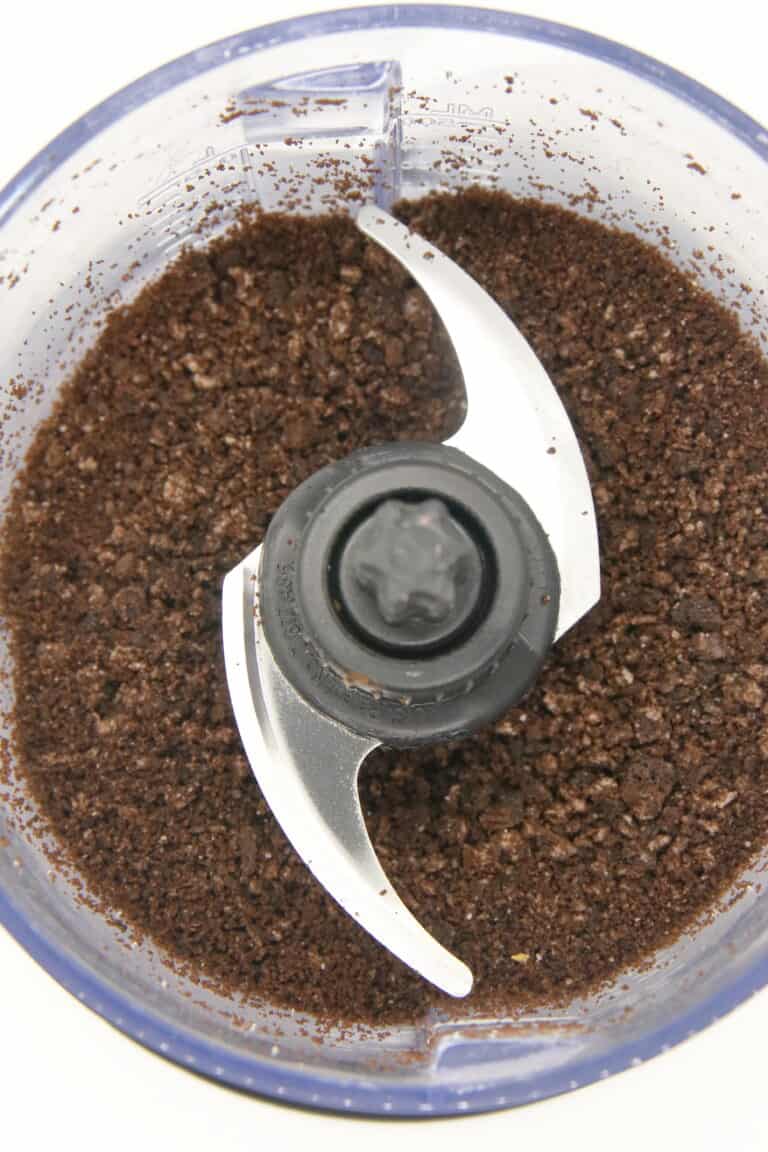 How small do I smash up the oreos?
That really depends. For the cakes, you can do everything from a bit chunky to very fine. It depends on how much you want your cookies to actually mix into the cookies and cream cupcake batter. I've done it both ways are both ways are DELISH.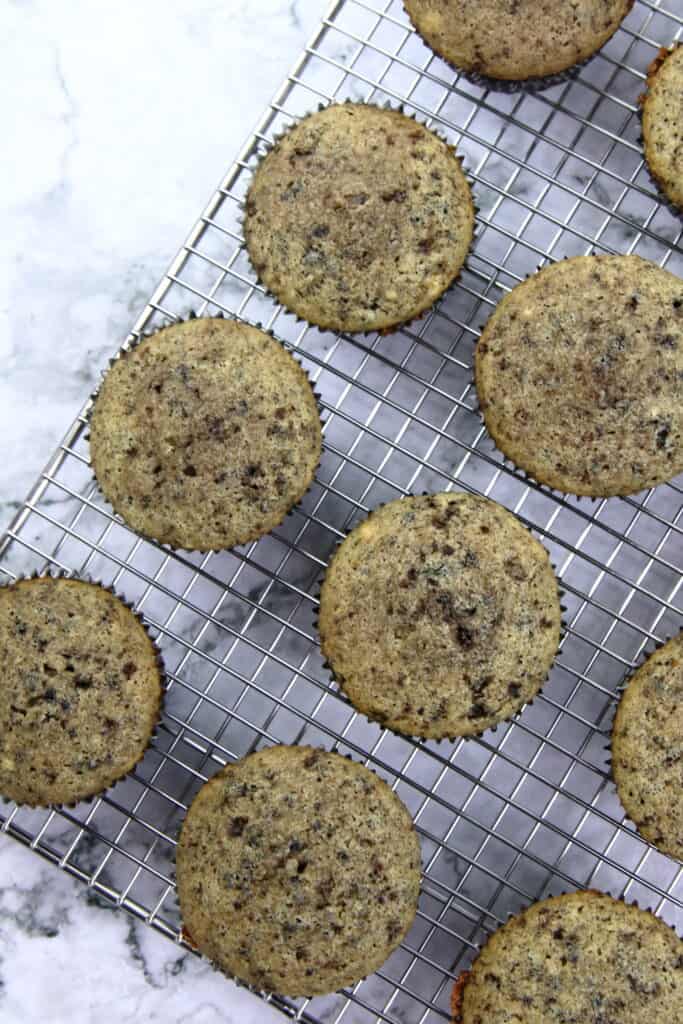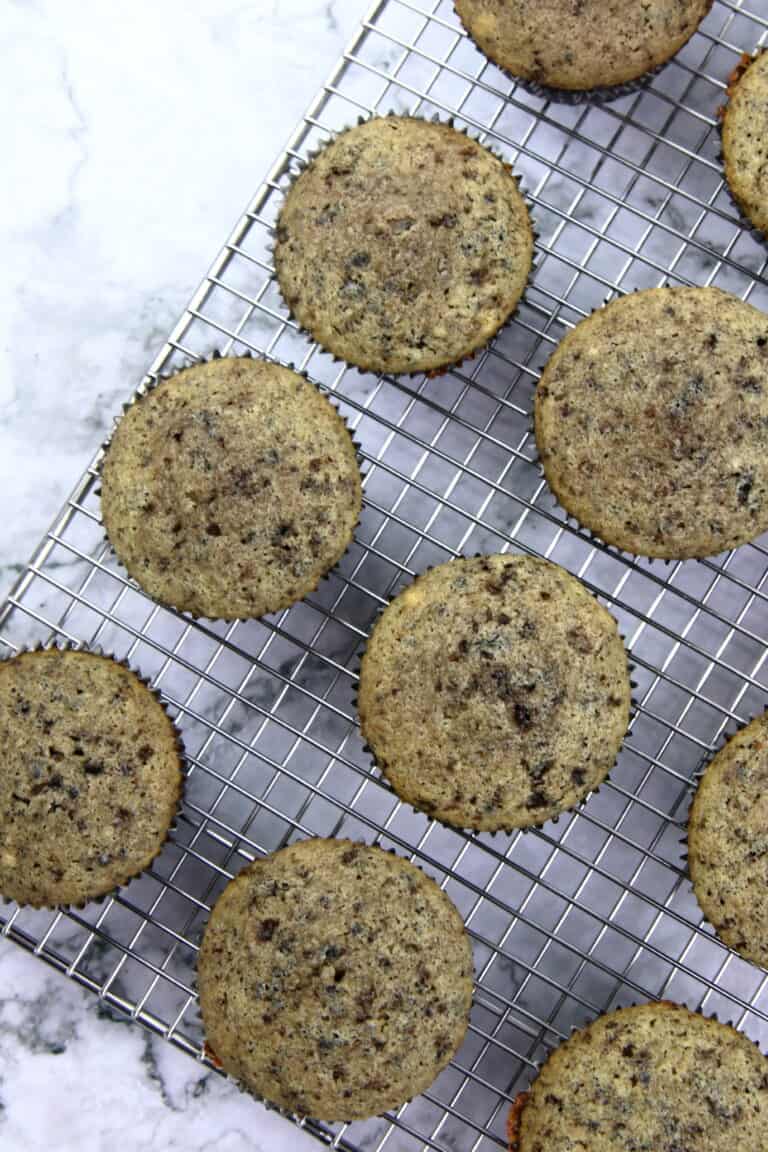 Now, for the frosting? You'll want those cookies blended to a very fine crumb. Not only do you want all that oreo goodness mixed throughout into the buttercream, but you'll go bonkers when your piping tip stops up every two seconds because of a big oreo piece.
I use my Ninja Food Processor (affiliate link) for this and it works incredibly well. For EVERYTHING.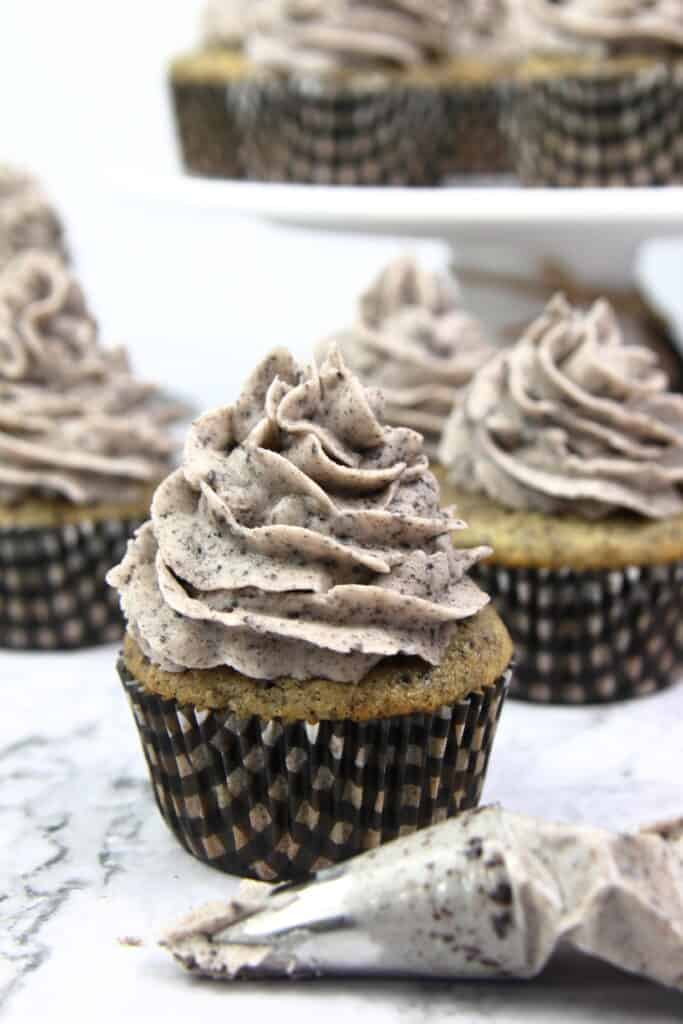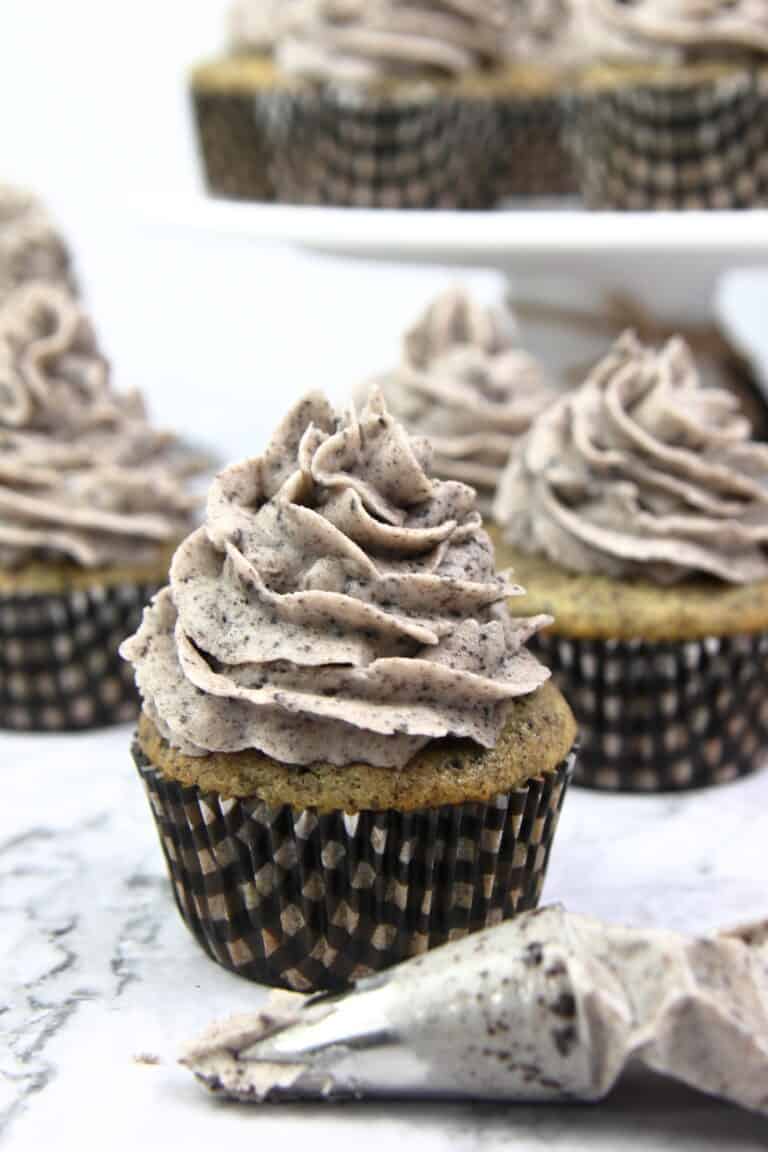 Do I really need sour cream for oreo cupcakes?
I know, sounds weird right? I still associate sour cream with what I like on my Mexican Pizza from Taco Bell, but it is soooo yummy in cakes! All that fat content in the cream really contributes to the moisture of the cake.
The egg yolks also play a big role in the moisture of the cake.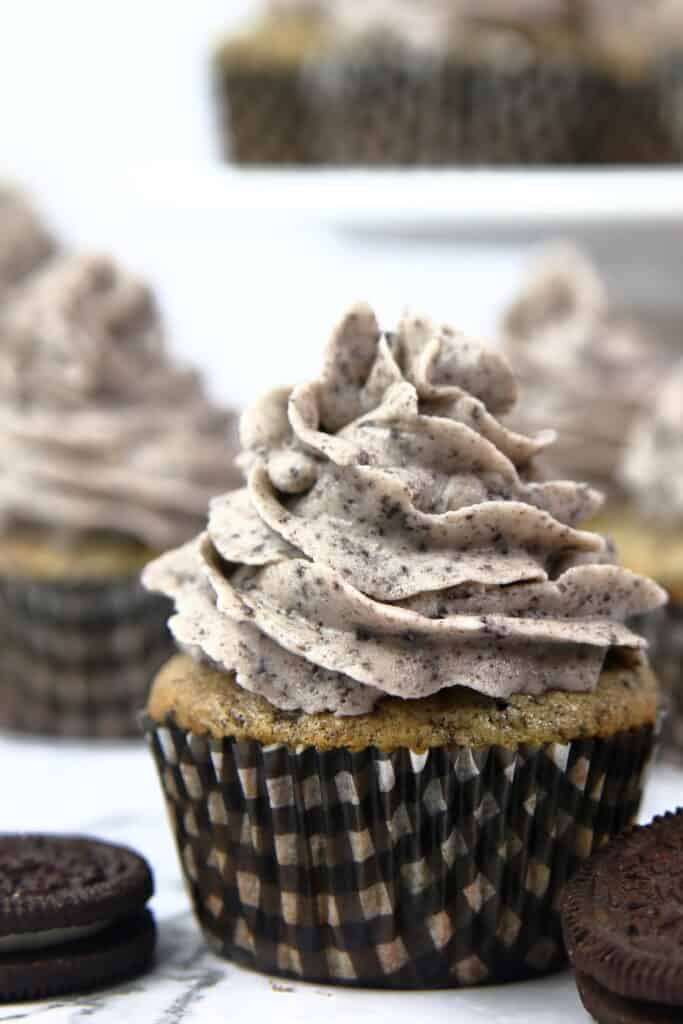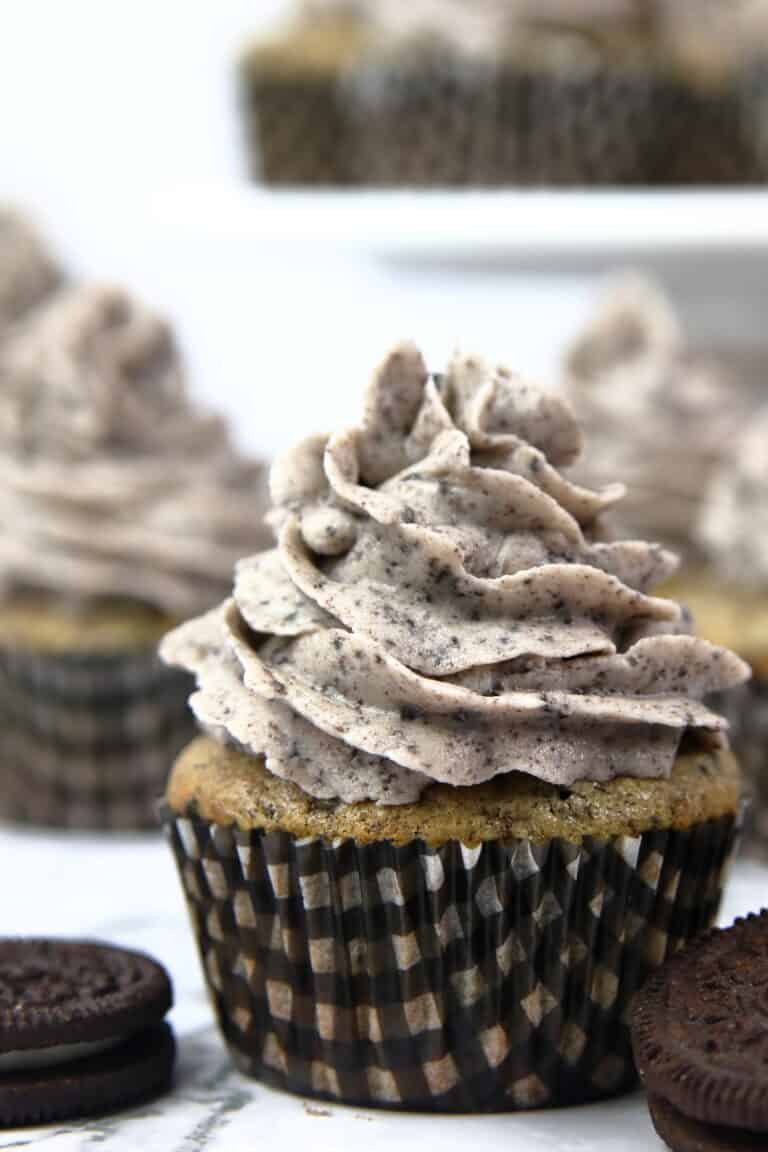 On the contrary, you get your structure in the cakes from the protein in the egg whites and the flour. It's a balancing act.

I usually advocate for doing what you like how you like it in the kitchen, but you do need to follow SOME rules when it comes to baking. I know, no fun.

Another baking rule you NEED to follow? All your ingredients need to be room temperature.

If you forgot to take them out but need to bake now?
put your eggs in a bowl of hot water
place the butter on the stove as it preheats. Rotate every few minutes.
heat your milk in the microwave for about 15 seconds.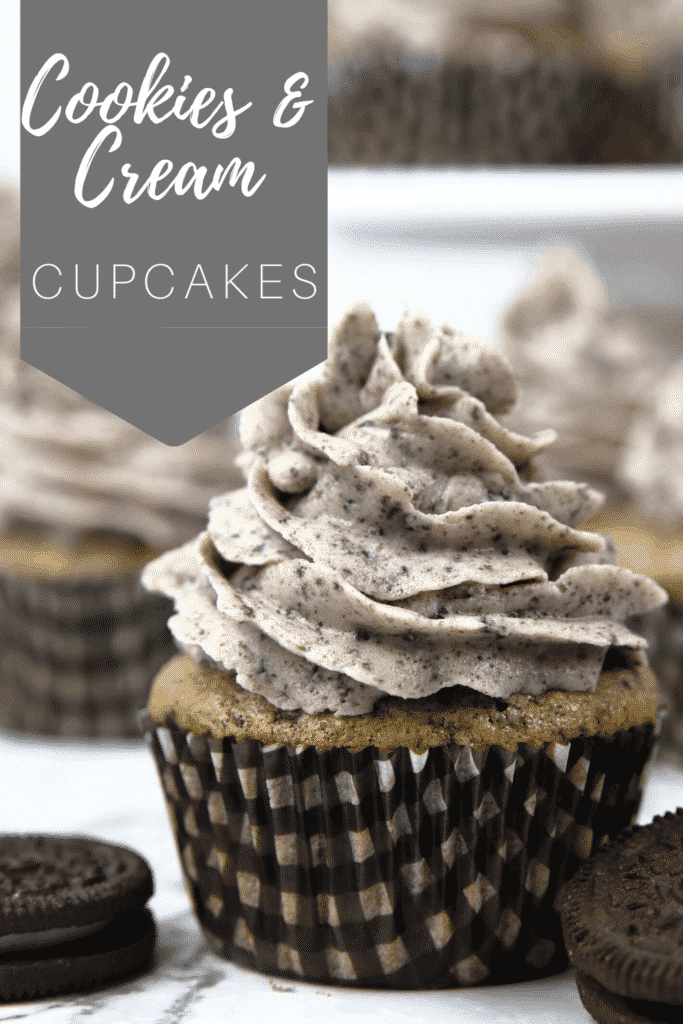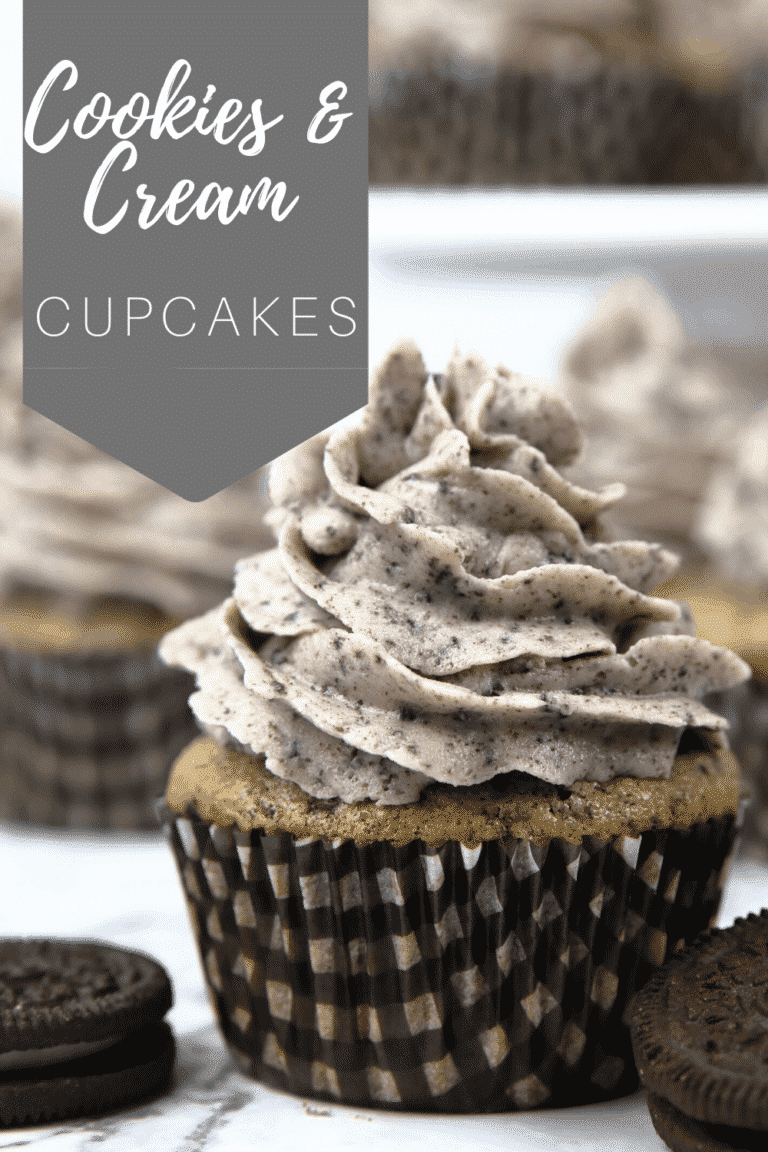 And there you have it! A decadent cookies and cream cupcake made with a classic oreo creating a wonderfully delicious treat EVERYONE will love!
Enjoy!
Looking for some more scrumptious cakes? Try these!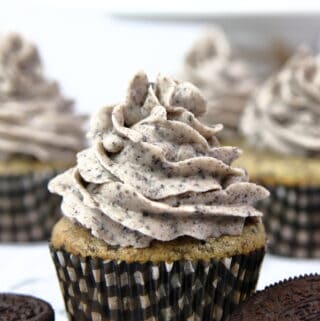 Cookies and Cream Cupcakes
These Cookies and Cream Cupcakes are packed with Oreo pieces and marshmallow flavoring topped with vanilla American buttercream with Oreo chunks.
Print
Pin
Share on Facebook
Rate
Ingredients
For the Cakes
200

g

sugar

1

stick

butter

115 g

2

large

eggs

115

g

full fat sour cream

½

tsp

vanilla extract

1

tsp

LorAnn marshmallow oil

210

g

all purpose flour, sifted

1

tsp

baking powder

½

tsp

baking soda

½

tsp

salt

5

ounces

milk

8

oreos
For the Oreo Buttercream
500

g

powdered sugar

2

sticks

butter

½

tsp

marshmallow oil

½

tsp

vanilla extract

2-4

tbsp

milk

½

tsp

salt
Instructions
For the Cakes
Make sure all ingredients are room temperature!

Blend 8 oreos in a food processor

Combine dry ingredients in a bowl. mix and set aside.

In a stand mixer with the whisk attachment, whip butter on high until creamy. Add sugar. Continue to whisk for about 3-5 minutes.

Add eggs and extracts and mix. Add sour cream. Continue to whisk until all is mixed.

Replace whisk attachment with paddle. On low, add dry mixture bit by bit. Alternate with milk until everything is mixed together. Mix until just combined.

Spoon into standard cupcake liners. This batter should make about 15 cakes.

Bake at 350F for 15-17 minutes or until a toothpick comes out clean when tested.

Remove from oven, transfer to a cooling rack and cool completely.
For the Buttercream
Sift the powdered sugar to get all clumps out.

Blend the other 8 oreos in a food processor until very fine.

With the whisk attachment on high, whip butter until smooth and creamy.

Add powdered sugar bit by bit until all is mixed.

Add milk 1 tablespoon at a time until you like the flavor and/or thickness.

Pipe onto completely cool cupcakes.