These Frozen Strawberry Limeade Vodka Slushes combine Deep Eddy Lime Vodka, fresh strawberries, fresh lime juice, sugar, and ice all blended together to make a smooth, refreshing frozen summer cocktail!
If you would rather the lemonade version of this drink, check out my Frozen Strawberry Lemonade Vodka Slush!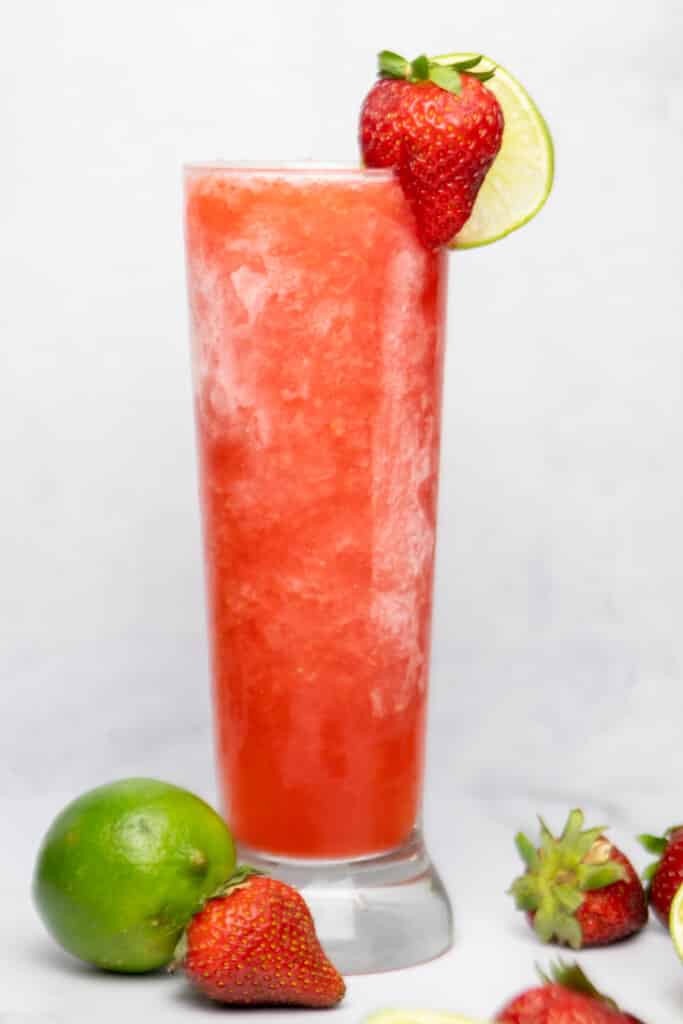 I love a good slush. There's nothing better than a happy hour slush from Sonic on a hot summer day. They do have some tasty slushes! But if you're wanting something with a little more kick and a little punch of vodka, look no further than this frozen vodka slush recipe.
What do I need for this vodka slush recipe?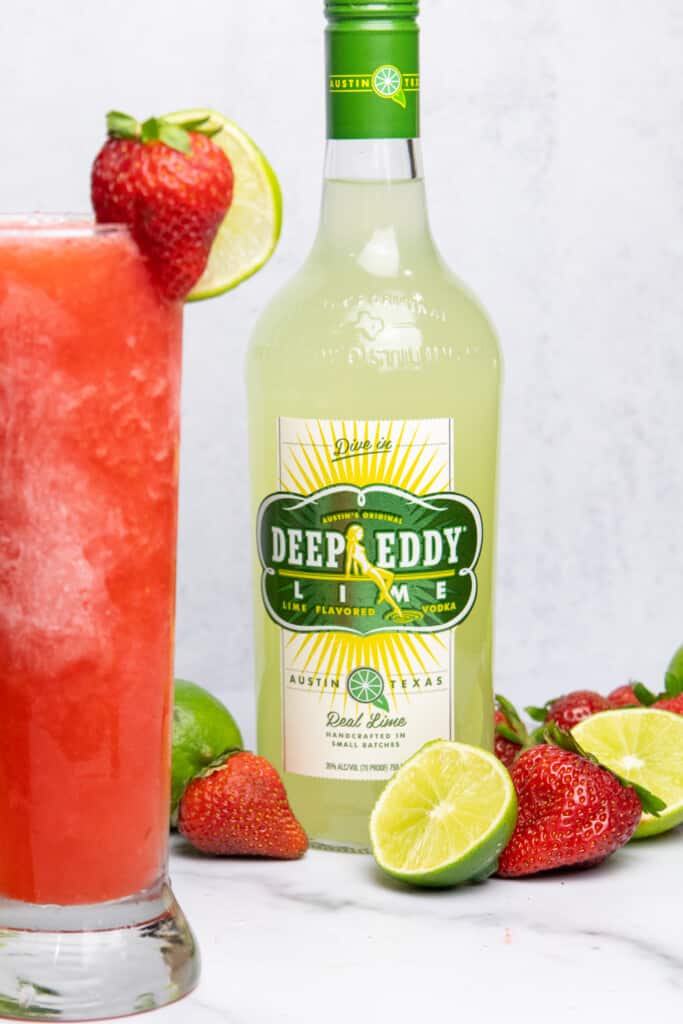 For this frozen strawberry limeade vodka slush, you will need:
Deep Eddy Lime Vodka
Fresh Strawberries
Lime Juice
White Sugar
Ice
A GOOD BLENDER!
As with any cocktail recipe, there is a balancing act to get it just how you like it. Some like their cocktails more on the sweet side, others on the tart. For me, it depends on the actual drink itself. But for this fruity frozen vodka drink, I wanted it a bit more on the sweet side. You can also play with the thickness by altering the amount of ice.
If you build it the right way, it's really easy to get it perfect.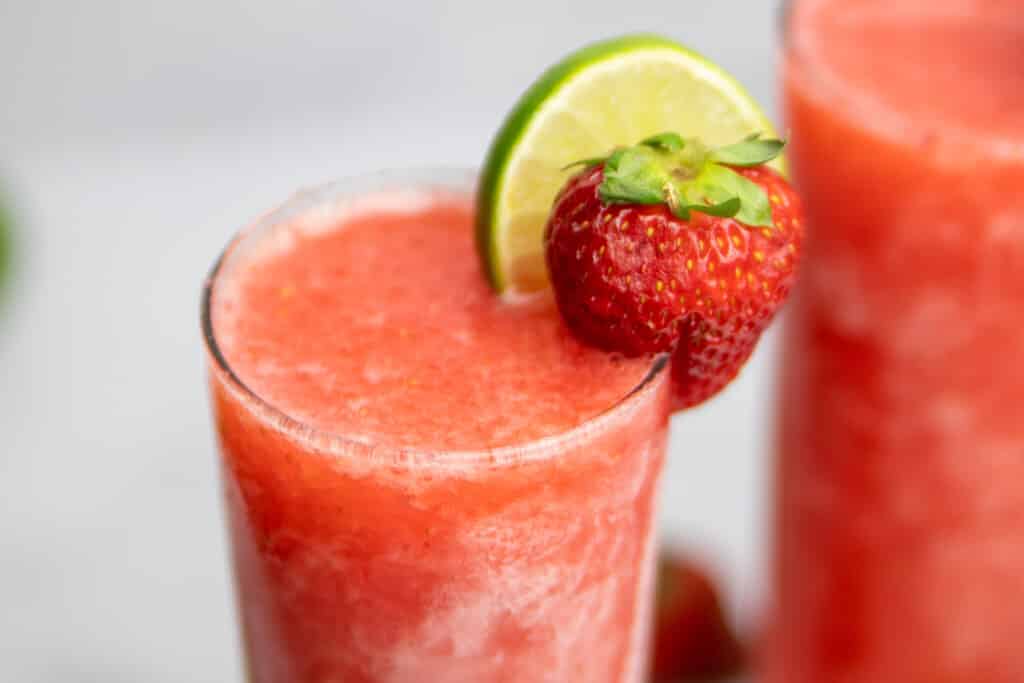 Start with the vodka and the strawberries and blend them smooth. Then add a little bit of the ice, blend, and see if the thickness is how you like it. If you want your frozen vodka drink to be a little thicker and icier, add more ice. If you want it thinner, add some lime juice.
Before you go adding a ton of lime juice or sugar, taste it. It might be a little bland at this point but it will give you a baseline for how tart or sweet to go. I added some lime juice first to brighten it up a little, and then added sugar, a little at a time, blended and tasted.
Too sweet? More lime. Too tart? Add sugar. Not strong enough? MORE VODKA! It's that simple.
Do I have to use Deep Eddy Lime Vodka?
I highly, highly recommend it. It's not just a lime vodka. Deep Eddy Lime Vodka is made with real lime juice and then lightly sweetened with cane sugar. It doesn't taste "fake" like a lot of other flavored vodkas.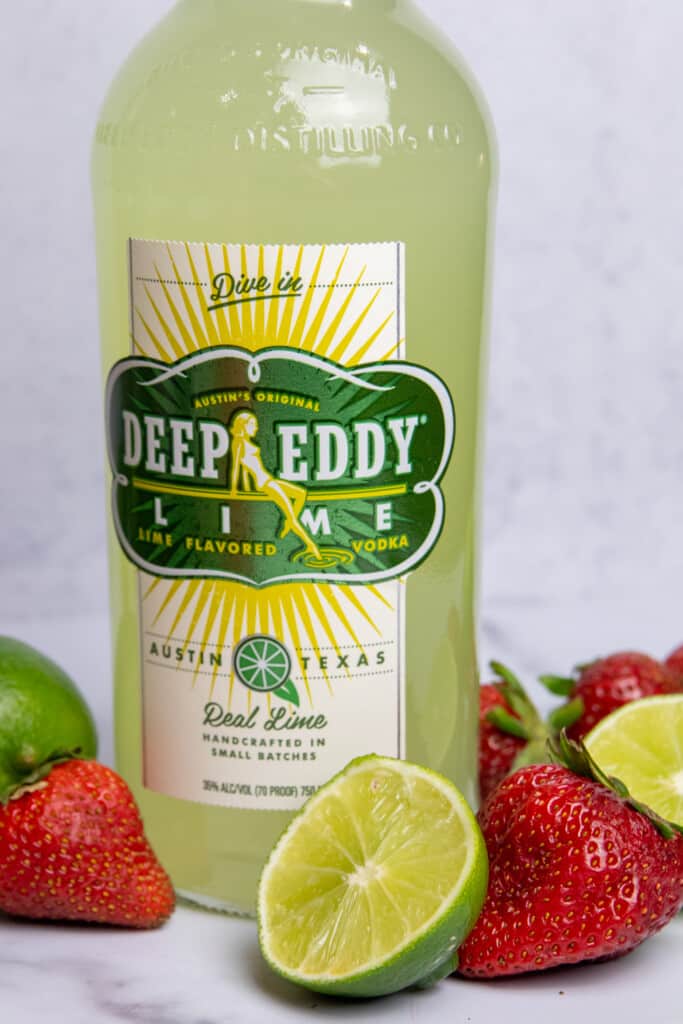 If other lime vodkas are what you can get, you might have to supplement with more lime juice to make up for the fresh lime flavor you'll lose if you don't use Deep Eddy Lime.
Do yourself a favor and just pick some up.
What's the best kind of blender to use?
I've said it before and I'll say it again. My Ninja Food Processor is one of the best things I've ever bought. It's not as expensive as a lot of blenders, plus it comes with different sized blender vessels. The smaller ones are great for food, and it has a larger blender container that makes some perfectly smooth frozen cocktails with no chunks of ice.
As an Amazon Affiliate, I earn a small commission at no extra cost to you.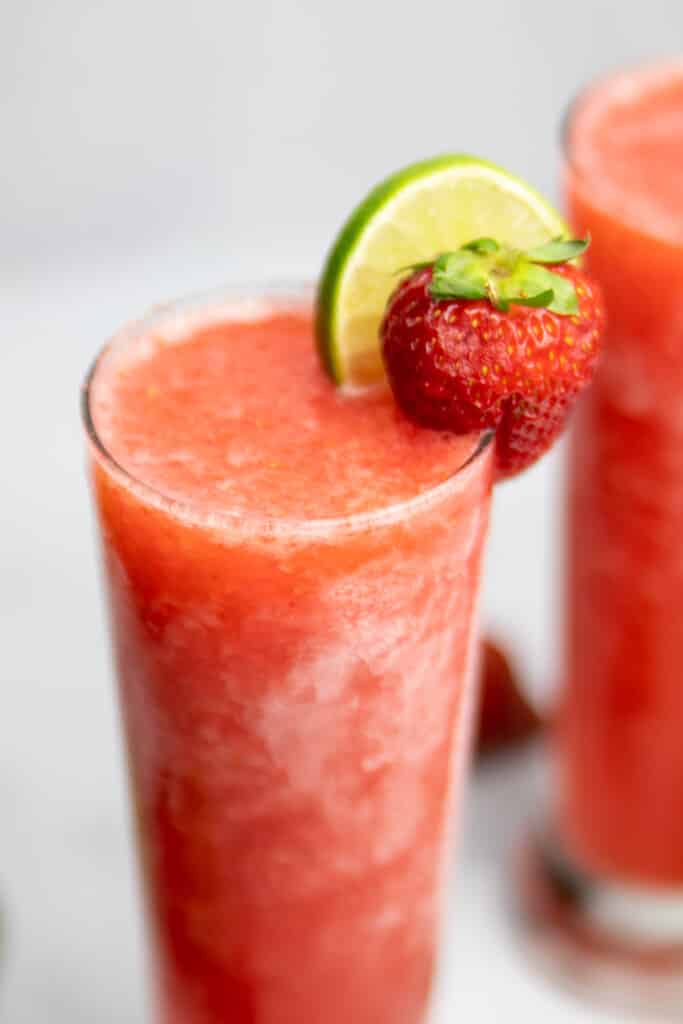 And that's pretty much it! With all these hot summer days we've been having, you are SURE to enjoy this Frozen Strawberry Limeade Vodka Slush.
Enjoy (responsibly)!
Try some of these other Deep Eddy Vodka Recipes or fruity vodka drinks!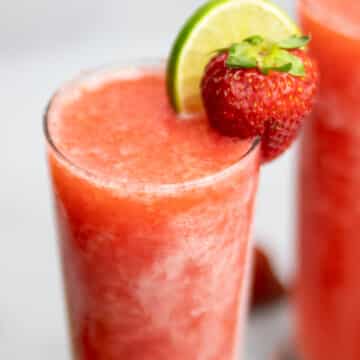 Strawberry Limeade Vodka Slush
Fresh Strawberries, Deep Eddy Lime Vodka, fresh lime juice, sugar, and ice all blended together to make a smooth, refreshing summer cocktail!
Print
Pin
Share on Facebook
Rate
Ingredients
¾

cup

Deep Eddy Lime Vodka

1

cup

fresh strawberries

3

cups

ice

2-3

tbsp

white sugar

2-3

ounces

fresh lime juice

if needed
Instructions
Add vodka and strawberries to blender. Blend until mixed.

Add ice and crush until you get the consistency and thickness you like.

Taste, and add sugar to your liking, depending on how sweet or tart you like it.

Blend all ingredients again until very smooth.

Serve and enjoy responsibly!