Fall apart tender one pot beef chuck roast roasted with onions, carrots, celery, and garlic dripping in a red wine and broth sauce. This super easy and delicious chuck roast recipe is definitely a new go-to dinner!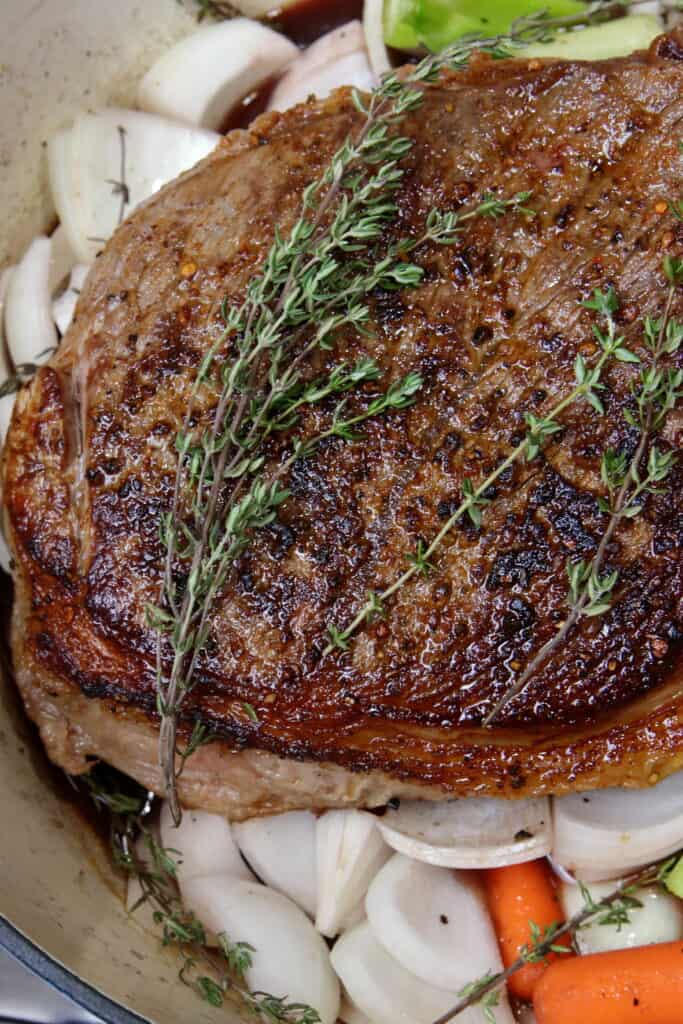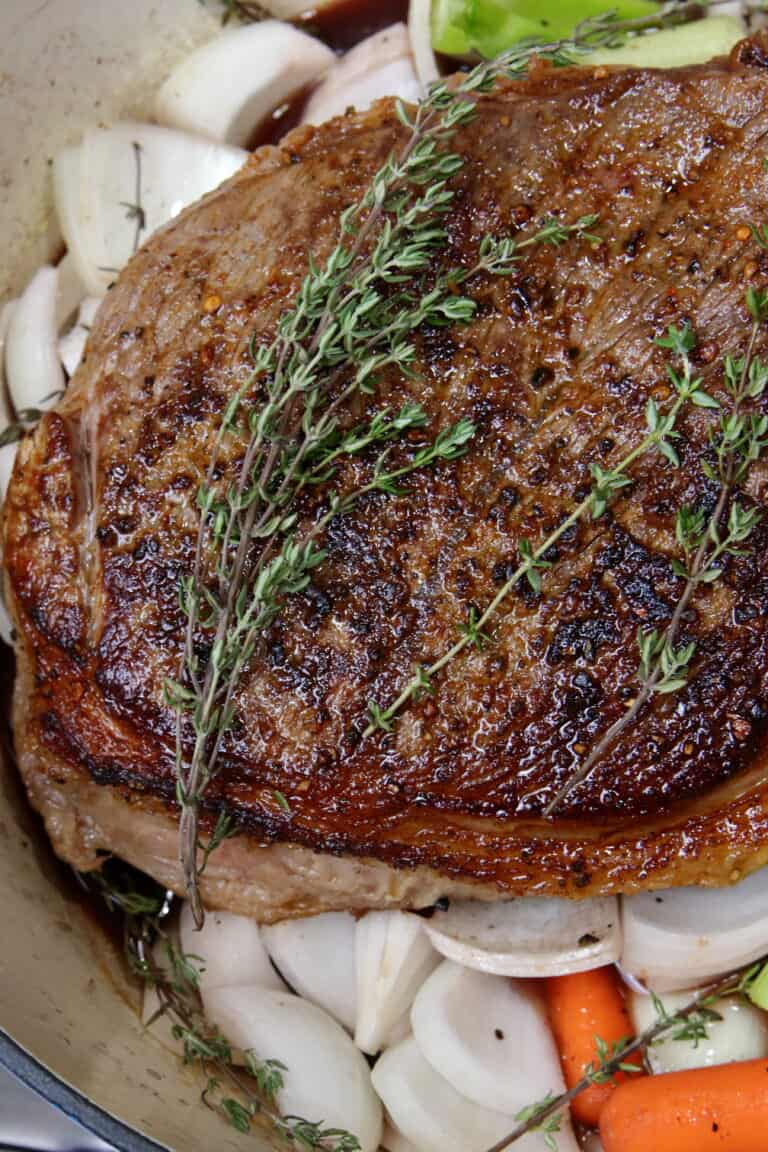 Making a beef pot roast is one of those good old fashioned classic All American dinners. It's definitely in the category of comfort food for me! It's especially great because it's pretty low maintenance and easy to whip together! A few of your favorite veggies and aromatics, some broth and wine and you've got a fabulous dinner!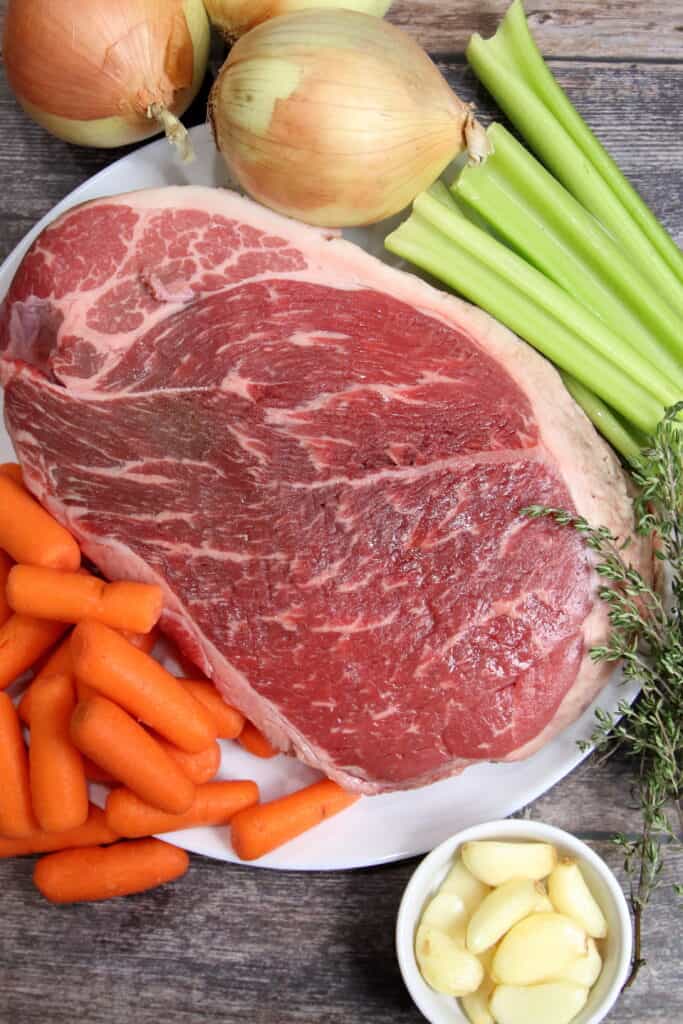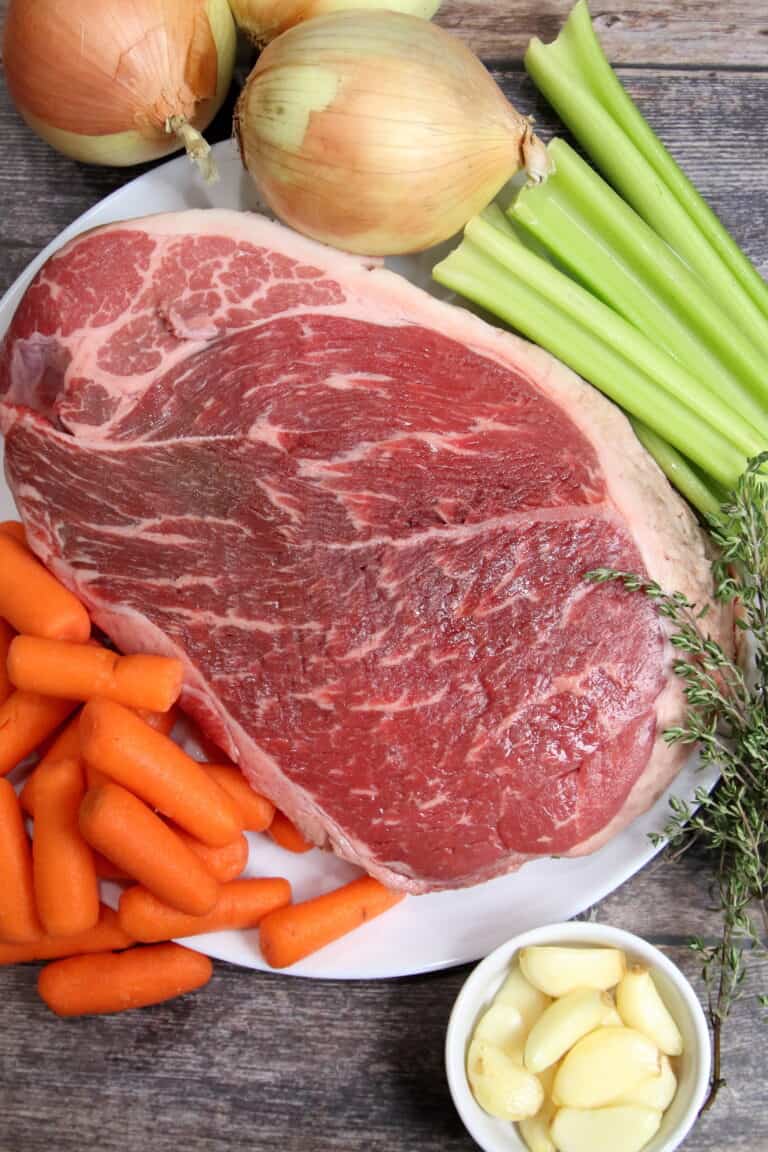 What do I need to make a chuck roast?
The great thing about this one pot beef roast is that you can customize to your liking, and there really is no wrong answer. In addition to your chuck roast and spices, you will definitely need a combination of aromatics to get some really great depth of flavor.
For my variation of the chuck roast recipe, I flavored mine with:
Beef broth- 2 cups
Dry red wine- 1 cup.
carrots- chopped, or just use baby carrots
celery- cut into 1-2 inch chunkc
onions (white or yellow)- rough chopped
garlic- whole cloves, cut in half
fresh thyme
That seems like a lot of wine in comparison to the amount of beef broth.
It is. I do use a 2:1 broth to wine ratio. But trust me. If you choose a good quality dry red wine (not expensive, just good quality), the flavor of the finished product will be out of this world rich and delicious. For this one in particular, I used the Educated Guess Merlot. Delish.
How to prepare the beef roast for the oven
Step one: SEASON YOUR MEAT!
You can do this with whatever you like, but salt and pepper is the bare minimum! You can use whatever spice blend you like, but for this roast, I opted for the Oil & Vinegar Texas Steak Rub.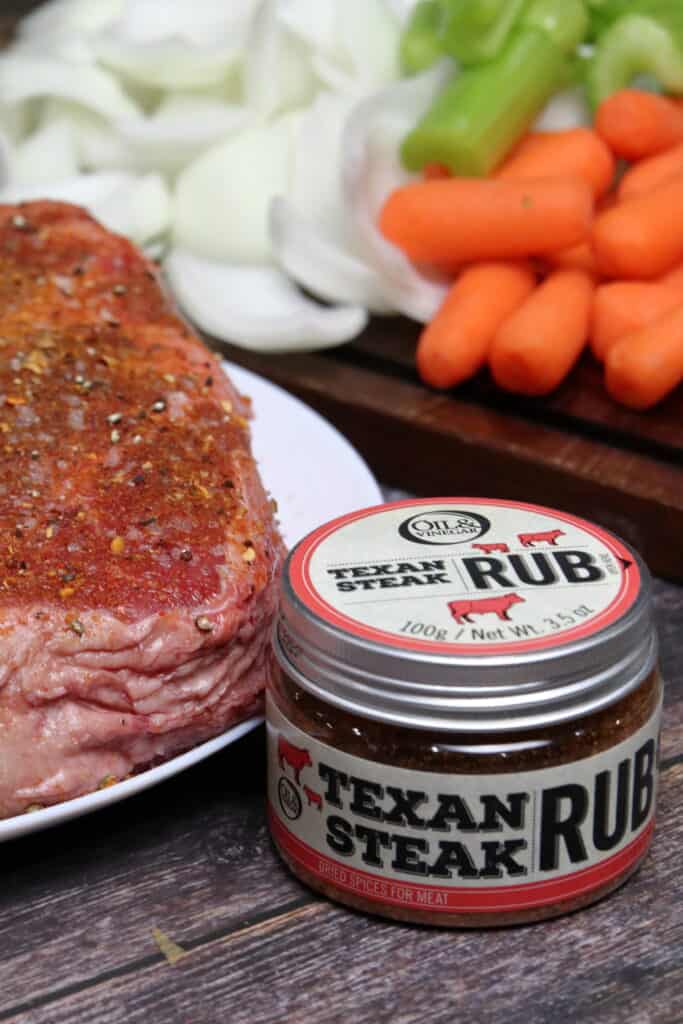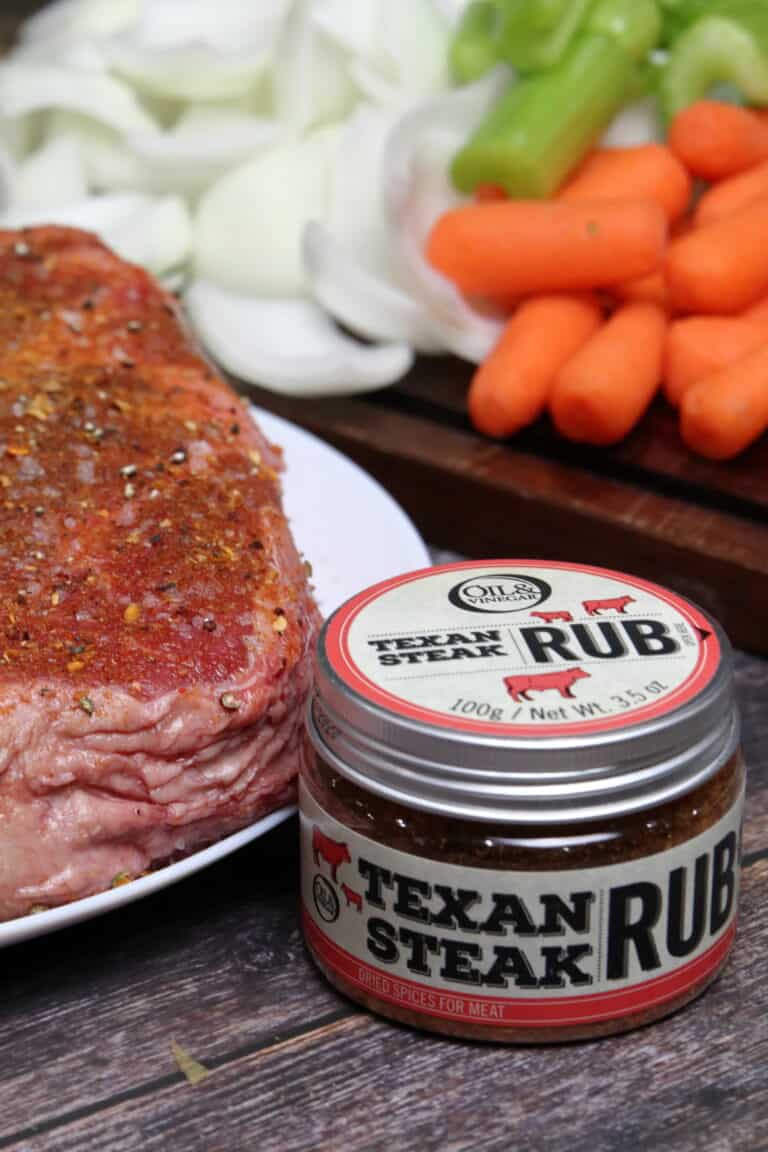 Sprinkle a GENEROUS coat of your favorite spice rub and let it marinate for a few minutes. In the meantime, heat the oil in a large, heavy dutch oven (affiliate link).
When that oil gets nice and hot, throw in that meat and sear it for about 3-4 minutes per side on medium-high heat. Don't skip this step! The goal here is not to cook the meat. We are just trying to get a nice, hard, crispy sear.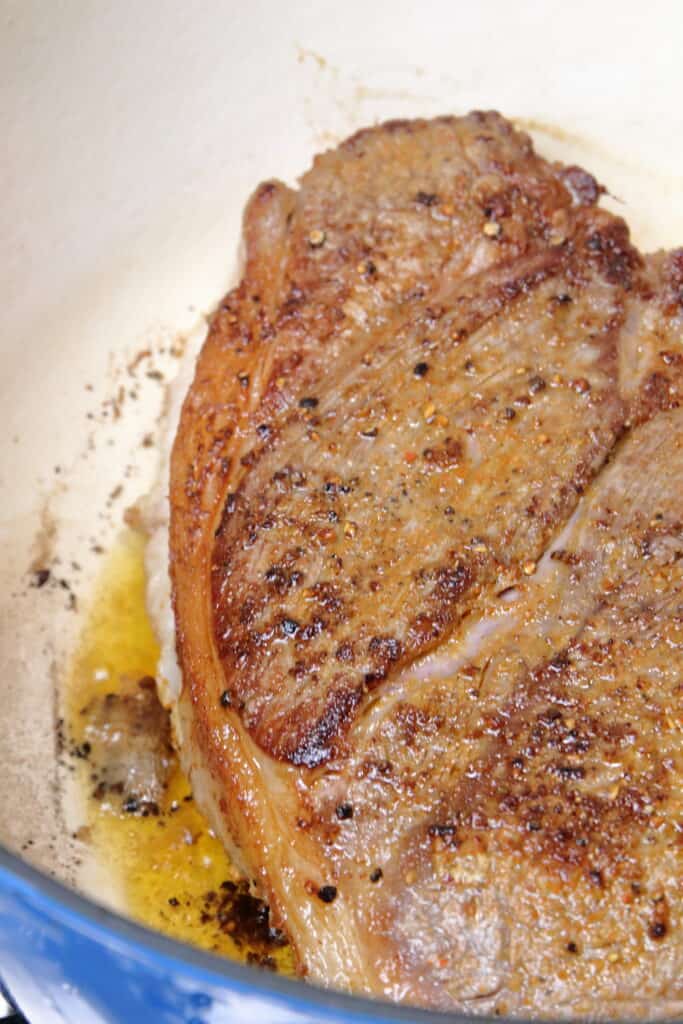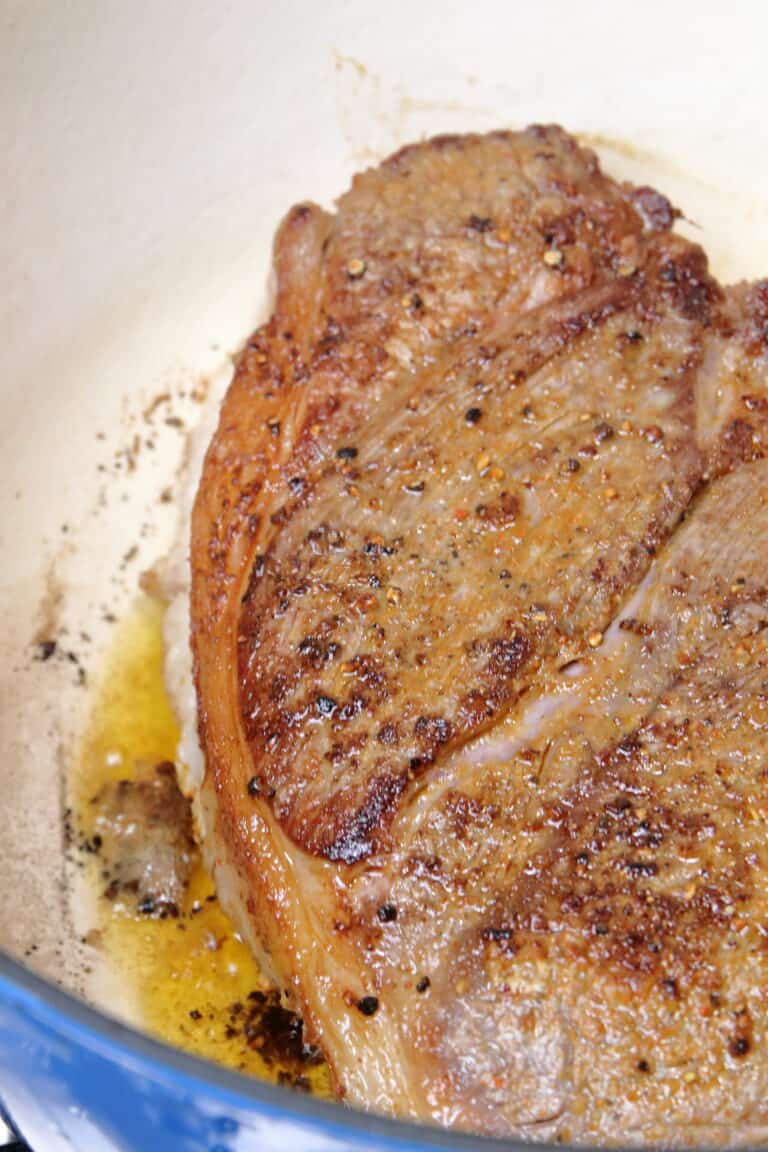 Getting your roast in the oven
Once your meat is nice and seared, remove it from the pot and set aside. Pour in your wine and broth to deglaze the pan. You want to scrape up and of those stuck on brown bits. Add your veggies and mix.
Place your seared chuck roast on top of the bed of veggies and broth. Take your sprigs of thyme (or rosemary or whatever herbs you like) and place a few on top of the meat and a few in the cooking liquid. No need to pick the leave off! Just throw the whole thing in there.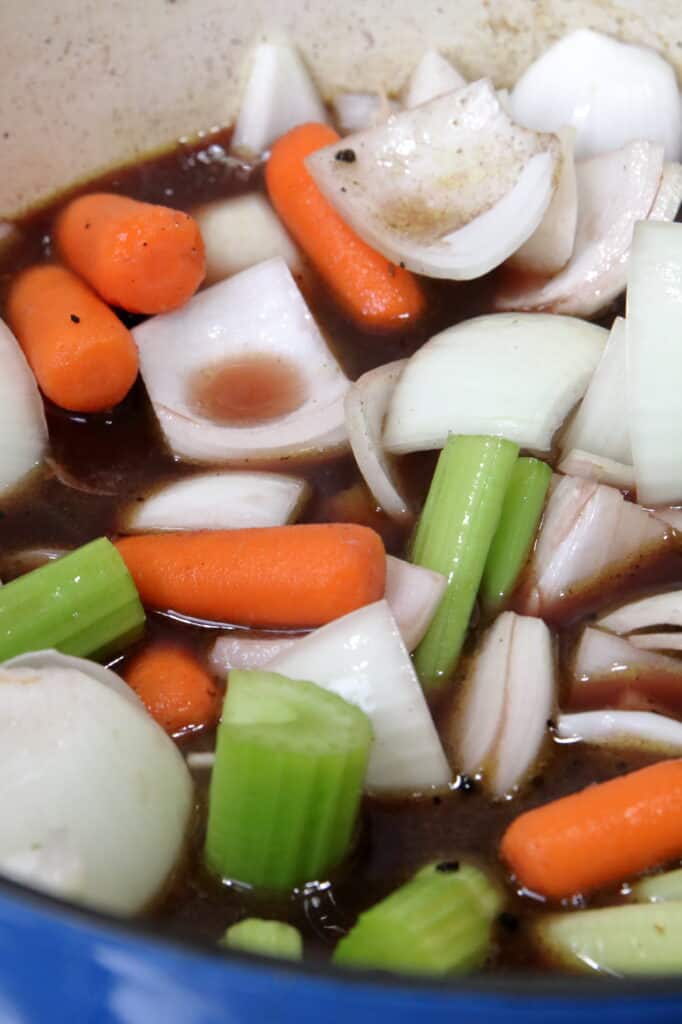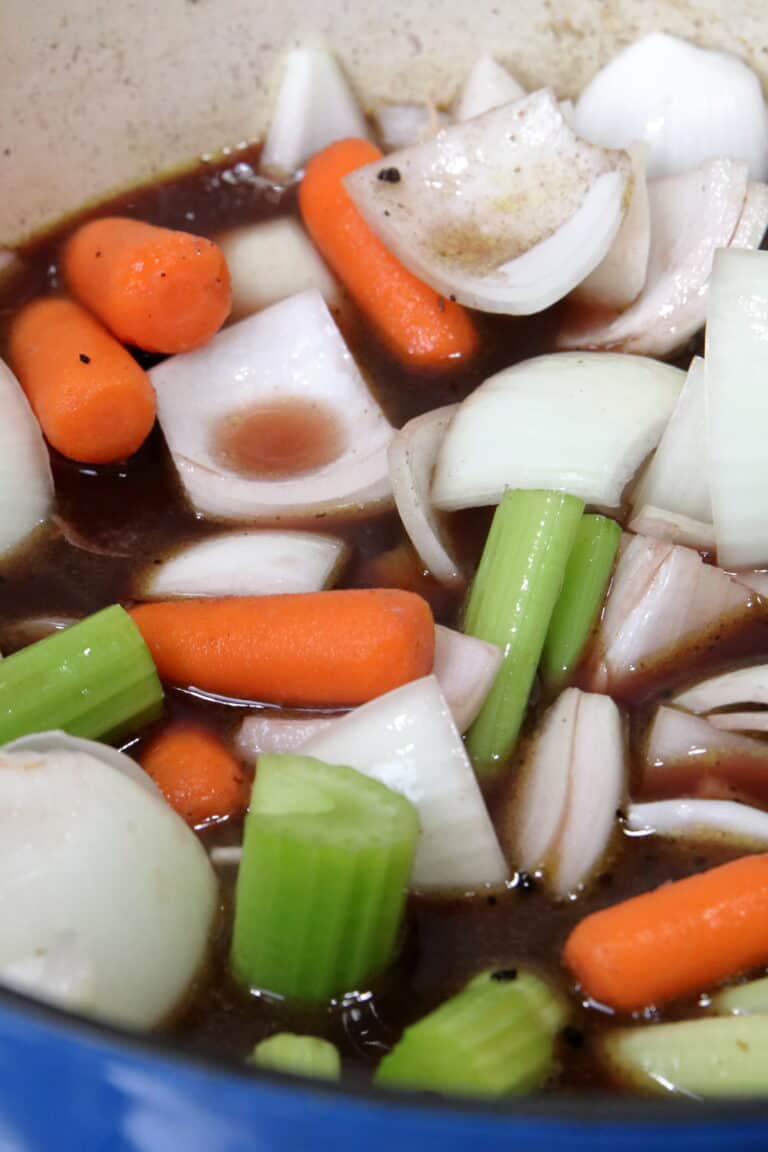 Cover the dutch oven and put it in the oven preheated to 250F. The beauty with using a heavy dutch oven is that the lid will provide a nice seal and hold i the moisture and flavor. That beef roast is going to sit there and baste in all that goodness for the next three hours.
Put it in there and leave it alone! That's all you have to do for 3 hours. Now, you can check if you like, test it with a meat thermometer, but it really is going to sit there and do all the work. I leave my chuck roast in for 3 hours. By this time, the meat has reached 205F and is ready to remove!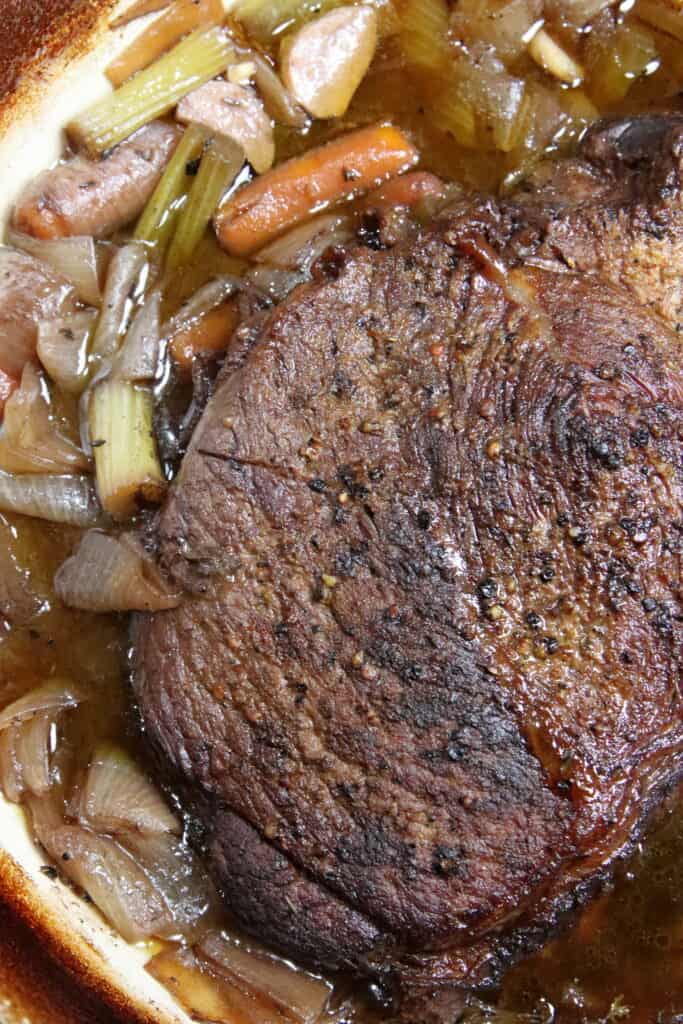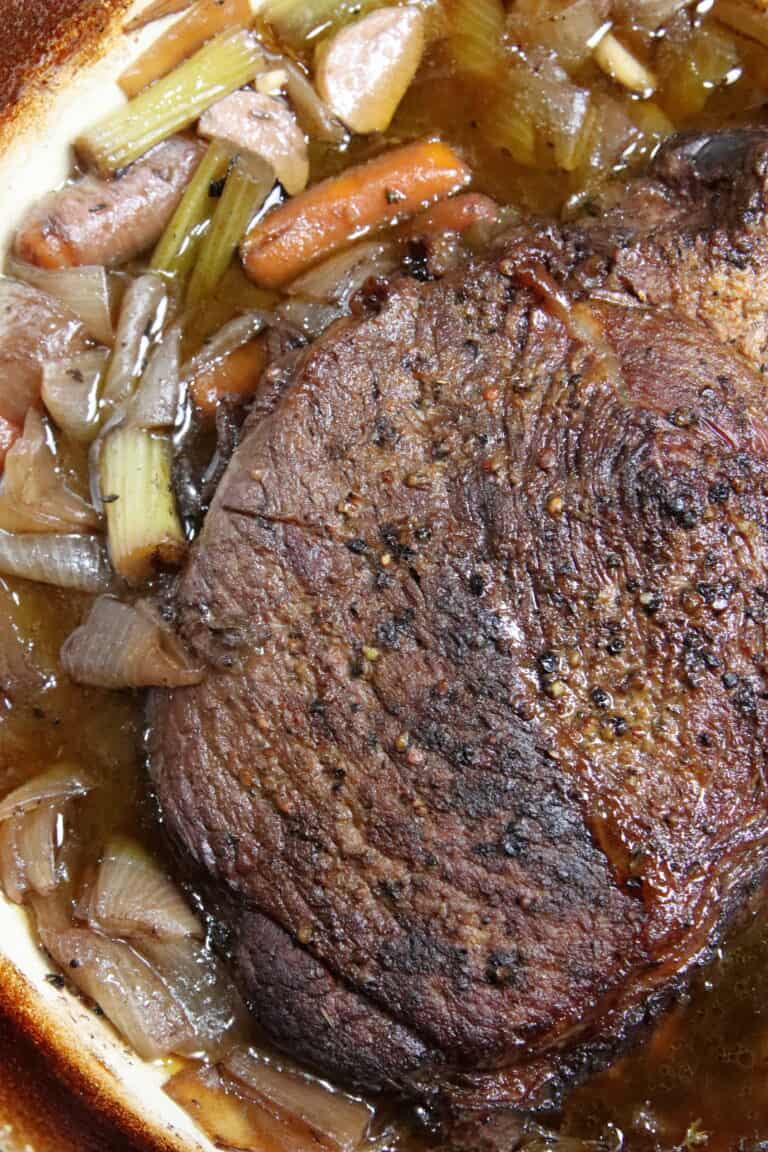 What do I with the cooking liquid?
Pour it on something! potatoes, the meat itself.. it is so good I swear I could drink it alone.
Now, the liquid at this point will be quite thin. If you like it that thin, leave it be! BUT.. Many people prefer a nice rich gravy. All you need to do it take a tablespoon of cornstarch and mix it with about a tablespoon of cold water, and mix it into the pot. Heat it in the over for about 10 minutes. This should be plenty of time to thicken up the juices.
You don't put potatoes in the pot with your beef roast?
No, I don't put potatoes in the pot for this chuck roast recipe.
Wait, hear me out.
You know what's ever better than roasted potatoes with a luscious pot roast? Mashed Potatoes.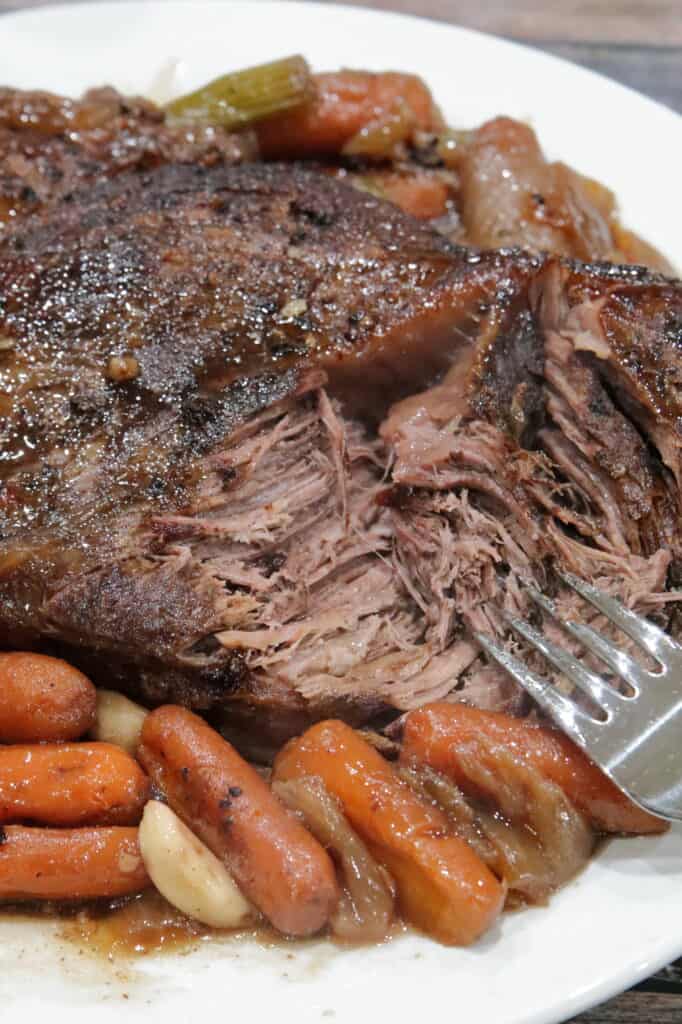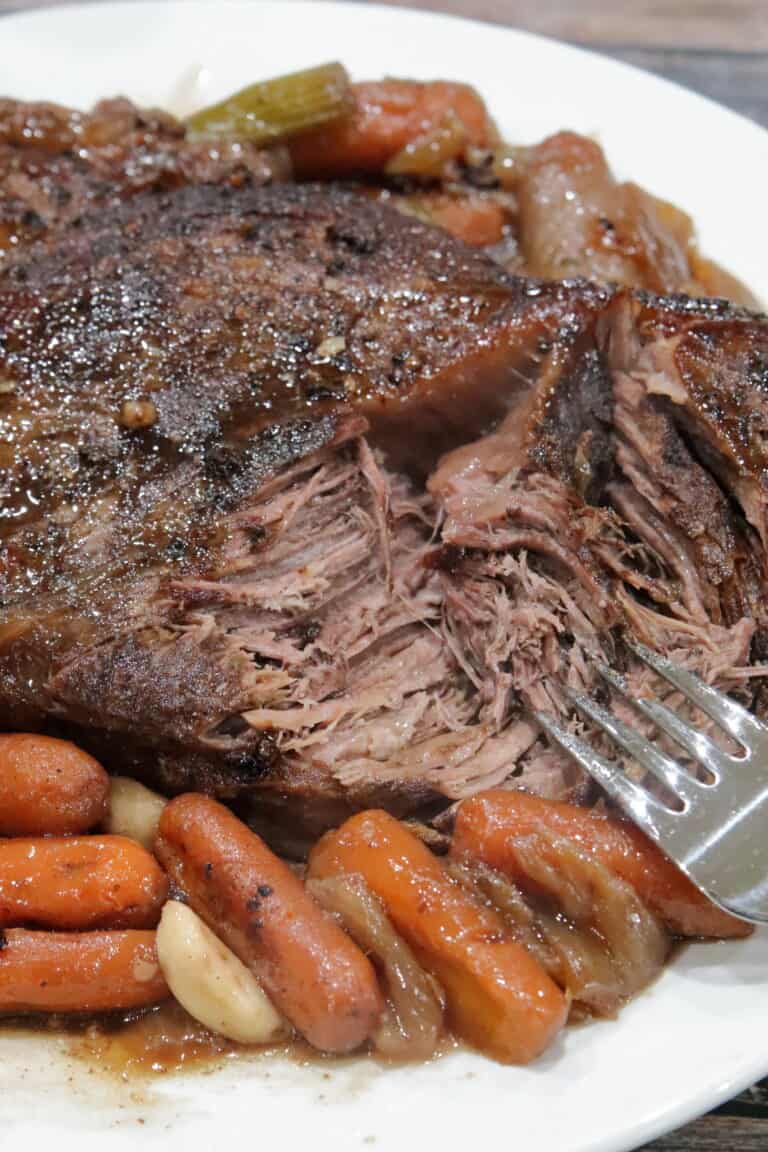 Take this so-tender-you-can-pull-it-apart-with-a-spoon chuck roast and dump it on a bed of creamy mashed potatoes and drizzle it with that gravy from the pot. You won't regret it.
And that's pretty much it! It truly is a low maintenance, easy to clean up dinner idea. Your definitely going to want to add this to your dinner rotation!
Enjoy!
Looking for some more meaty dinner ideas? Check out: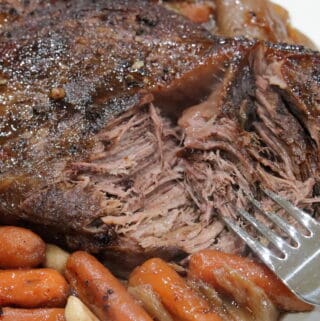 One Pot Beef Chuck Roast
Fall apart tender one pot beef roast roasted with onions, carrots, celery, and garlic dripping in a red wine and broth sauce.
Print
Pin
Share on Facebook
Rate
Ingredients
3 lb boneless chuck roast

2

tbsp

canola oil

2

tbsp

your favorite beef rub

I used Oil & Vinegar Texan Beef Rub

Kosher Salt

3

whole medium onions- rough chopped

white or yellow

½

lb

baby carrots

4-5

celery stalks

10

garlic cloves, sliced in half

2

cups

beef broth

1

cup

dry red wine (cabernet, merlot)

5-6

springs

fresh time

1

tbsp

Cornstach mixed with 1 tbsp water, for thickening, if desired.

optional
Instructions
Season the roast
Generously season your chuck roast on both sides with the beef rub and kosher salt. Let sit while you chop and prepare you vegetables.
Preparing your vegetables
Rough chop the onions. I cut each onion in half, and then each half into 4 (discarding the ends). Chop celery into about 2 inch pieces. Slice garlic in half long ways. No need to chop the baby carrot unless you want to. If you are using whole carrot, chop in half long ways and then into 2 inch pieces.
Searing the meat
In your large dutch oven (I recommend a heavy duty enameled cast iron), Over medium/high heat, heat canola oil until just smoking (about 400°F).

Once oil is hot, sear your chuck roast for about 3 minutes per side, or until you have a nice hard crust. Remove from pot and set aside. With the pan still hot, pour in broth and wine and scrape up and cooked on bits.

Add your veggies and garlic. Return chuck roast to the pot and place on bed of vegetables. It will probably be sitting above the liquid level. That is ok!

Add a couple of Thyme sprigs to the top of the beef and a couple directly into the cooking liquid.
Roasting the Chuck Roast
Cover the roast with a lid and roast in oven for 3 hours, or until internal temperature is 205°F. No need to check, baste, or rotate.

Remove from oven. Meat will fall apart with a fork! Spoon out veggies and meat. Serve with a side of rice or mashed potatoes, or whatever you like! Enjoy!
*When roast is finished cooking, the cooking liquid will be thin! (but delicious). If you prefer a thicker sauce, like a gravy, mix a tablespoon of cornstarch with a tablespoon of water, and stir into the liquid and mix around while still in the pot. No need to remove the roast, just mix it in. Place back in oven, covered, for about 10 minutes. drippings will be much thicker so you can use it as a topper for your dish!